Description
Make your mark on the snowy mountain canvas with the women's Burton Stylus Snowboard, the ultimate companion for those seeking their snowboarding debut. This board effortlessly combines style and performance, letting you carve your way to greatness with grace and ease. Get ready to paint the mountains with your unique flair, leaving a trail of steeze and smiles in your wake.
Rocker Type
Flat Top™ with Easy Bevel – Rising rider or seasoned pro, keep your game high and tight with Flat Top. A flat profile between the feet means stability, better balance, and continuous edge control. The tip and tail kick up with an early rise outside the feet for the catch-free, loose feeling you'd expect from rocker.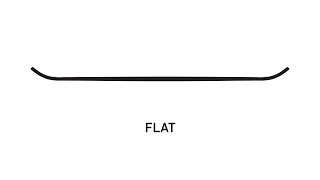 Flex
Twin Flex – The flex is perfectly symmetrical from tip to tail for a balanced ride that's equally versatile regular or switch.
Shape
Twin – Perfectly symmetrical for a balanced ride that's equally versatile regular or switch. Jib, spin, stomp, and butter with a greater balance of freestyle mobility and cat-like stability no matter which way you point it.
Core
Fly 900G Core – The simplest of Burton's cores, the Fly is made up of two wood species the lighten the core, but still give it strength, pop and flex.
Squeezebox Low – With an overall easier feel, Squeezebox Low brings high-end core profiling technology to the progressing rider. Stiffer zones just outside your feet create a more direct energy transfer to the tip and tail, while enabling a softer, smoother flex between the bindings. The end result is more control with less effort from the rider.
Laminates
Biax™ Fiberglass – Gives the board a jib and park friendly feel by softening the torsional flex.
Base
Extruded Base – Speed, strength, and graphical pop in a base that requires little maintenance. Pass your friends without even waxing.
Edges
Easy Bevel – Easy Bevel gives riders an incredibly soft and forgiving board that's virtually impossible to catch an edge on. With a convex base that lifts the edges off the snow and a super soft flex, these boards make it easy to learn balance and board control.
Additional Features
Super Sap® Epoxy – A resin formulated with bio-based materials that reduces the carbon footprint by 50% over conventional all-petroleum-based epoxies. Less oil consumption means even less of a carbon footprint per board.
Binding Compatibility
The Channel® Mounting System – Stronger, faster, easier, and more adjustable -- The Channel™ gives you ultimate control of your stance and your board in a design compatible with all major bindings (not just Burton's).
Buy 1 Set of Trucks Get 1 Set of Wheels FREE
View all